This is a Game Article.
Yuugiroku 2
Matsuribayashi To Taishitachi
遊戯録弐: 祭囃子と隊士達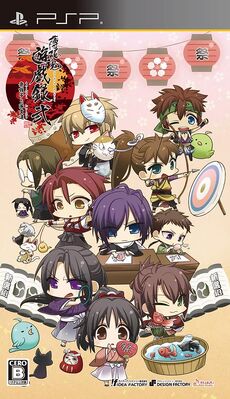 ---
Category: Mini-Game Collection
Genre: Romance-Adventure
Platform: PSP
Players: One
Rating: CERO-B (12 & Above)
Release Date: May 24th 2012
Official Website

The Shinsengumi chibi's are back in another adorable PSP pocket game, which was released only in Japan on th 24th May, 2012.
Synopsis
One summer while the Shinsengumi was moved to the nearby Shrine, there have been rumours about an attack that will be taking place at the festival to come. As part of the Shinsengumi's duty, they will need to be on guard during the festival. For Chizuru, who isn't allow to get out alone, she would have to go to the festival with someone.
In addition to the usual 5 bacholors plus Kazama, Shinpachi, Sannan & Yamazaki are all given routes in this game
Wallpapers
1920x1200-A
1920x1200-Chibi Version
Video Trailer
Gallery