Kamo Serizawa

Deceased

Fist name

Kamo

Family name

Serizawa

Rank

[Former] Head Commander

Age

early 40's

Weapon of choice

Sword

Hair

Dark Red & Silver Gray

Eyes

Steele

Japanese Seyyu

Nakata, Jouji

English Voice Actor

N/A
Serizawa Kamo is the former Head Commander of Roshigumi (later Shinsengumi).
His character is historically based.
Personality & Appearance
Serizawa is a proud, vivacious & at times violent man. He has shoulder length hair which is dark red;almost black on the top half of his head & silver gray lower down, his hair is spiky on top with a samurai top knot at the back (much like Kondou's hair) but with leftover hair that is kept loose (Much like Souji's hair). Serizawa is loosely based on the historical Serizawa Kamo.
History
Serizawa is a very difficult character to understand; Although Serizawa may seem full of flaws, he did indeed help the Roshigumi in both financially & politically, however, Serizawa did very little in the way of earning the Roshigumi a "good" reputation with the locals: almost every time he went to Shimabara, chaos ensued quite regularly. It was also thanks to Serizawa that the Roshigumi was given the title "Wolves Of Mibu" by the citizens of Kyoto.Soon after the Roshigumi was bestowed the title of Shinsengumi, Lord Aizu ordered Kondou to "get rid of" Serizawa because he was simply too much of a liability to both the Shinsengumi's & the Aizu's reputation & was soon assassinated.
Trivia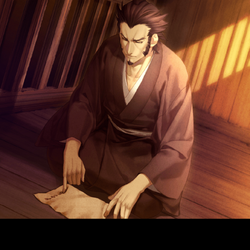 A very little known fact about the real life Serizawa was very fond of children and often showed his drawings to them. It's unknown whether he displays this in Hakuouki however.
"Amidst the desolation of snow and frost, the plum is the first to bloom in brilliant color. The blossoms keep their fragrance, even after they have scattered." -- This was Serizawa's intended death poem, written while he was imprisoned, sentenced to death for what was considered cold-blooded murder. While jailed, he refuse food and had only a small window that could give him any sight of the outside.
He bit open his pinky, writing the poem in blood. As it turned out, he ended up surviving the ordeal and of course, later became one of the Roshigumi (and briefly, Shinsengumi) commanders.