Ibuki Ryunosuke
井吹龍之介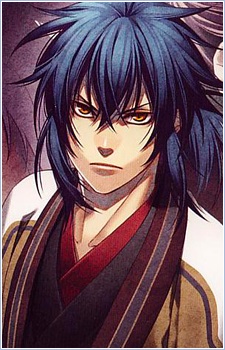 ---
Race: Human
Sex: Male
Hair Colour: Blue
Eye Colour: Amber
Japanese Seiyu: Seki Tomokazu
English Seiyu: Adam Gibbs

About
Ryuunosuke is an original character role created for the storyline and does not exist historically. He is also the narrator and Playable Character in Hakuōki Reimeiroku video game.
Biography
Ryuunosuke is the 16 year old son of a samurai but holds a hatred for samurais.
He was picked up by the Roshigumi (later Shinsengumi) Head Commander Serizawa Kamo when he was robbed by rouge samurai and left to die on his way to Kyoto. After being rescued, he was forced to become Serizawa's "dog" or servant. On the night of Serizowa's death, after seeing his master killed, he ran away and supposedly lived happily ever after.
Personality
An obstinate person who seems to be rude and ungrateful about receiving help from others, but holds a kind side to him as well.
Appearance
He has very long, blue hair that he keep in a high ponytail & bright amber eyes that are almost orange. At the end of the Reimeiroku anime series, he cuts his hair short.
Ad blocker interference detected!
Wikia is a free-to-use site that makes money from advertising. We have a modified experience for viewers using ad blockers

Wikia is not accessible if you've made further modifications. Remove the custom ad blocker rule(s) and the page will load as expected.