Kosuzu
小鈴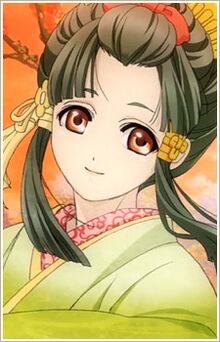 ---
Race: Human
Sex: Female
Hair Colour: Forest Brown
Eye Colour: Dark Amber
Japanese Seiyu: Yoko Nishino
Kosuzu is a sweet, honest, feisty young lady who's never afraid to speak her mind (14 years old , 160 cm tall) . She has long-ish almost green-ish brown hair which is usually traditionally tied in a bun, save for her bangs. She is an original character for Hakuouki & is also Ryuunosuke's love interest in both the game & anime.
Kosuzu appears in Hakuouki SSL she attends Shimabara Girls School as a first year student and is the younger foster sister of Sen.
Kosuzu's Gallery
Ad blocker interference detected!
Wikia is a free-to-use site that makes money from advertising. We have a modified experience for viewers using ad blockers

Wikia is not accessible if you've made further modifications. Remove the custom ad blocker rule(s) and the page will load as expected.